San Juan Complete Streets
San Juan Complete Streets
WE NEED YOUR FEEDBACK!
The City is seeking community feedback on the preliminary design of the project.

Click on the picture below to review the conceptual design.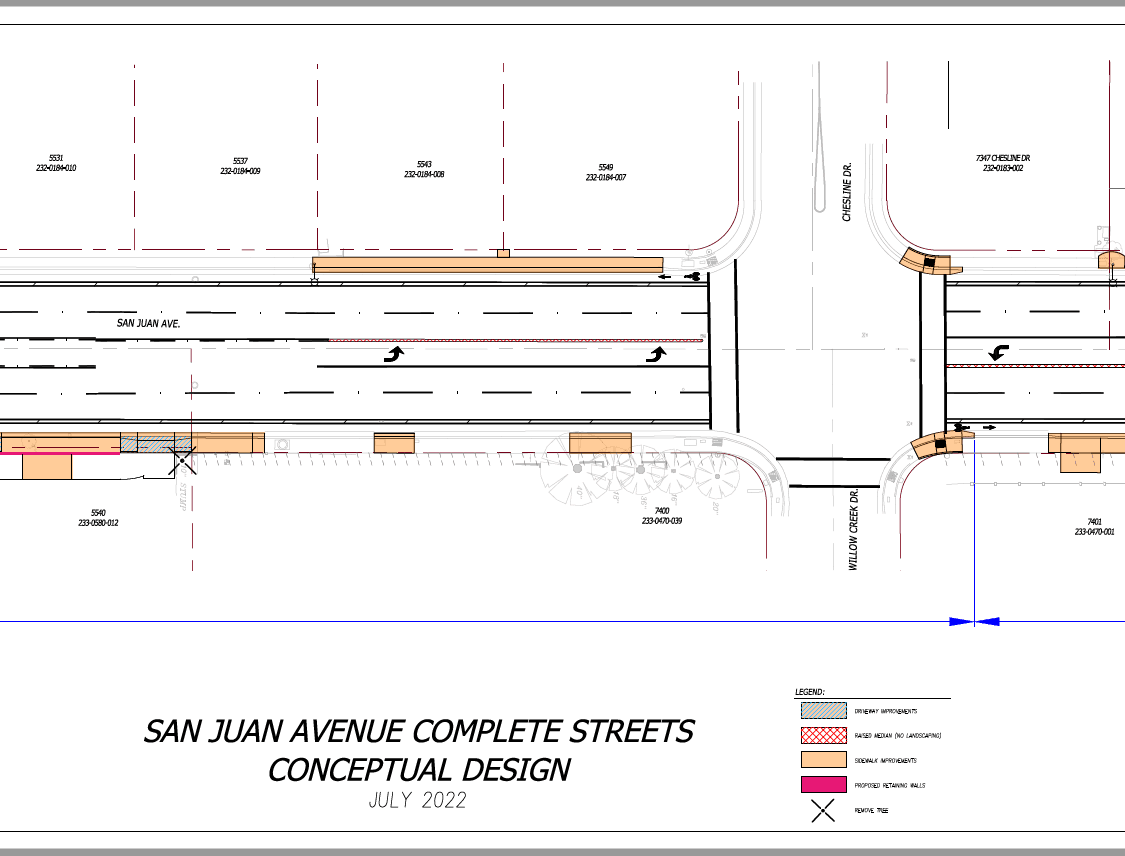 Office Hours
Discuss project details with our engineer. To schedule time, call 916-727-4700.
August 3, 2022, 9 AM - 12 PM
August 4, 2022, 12 PM - 3PM
Project History
This project is the first phase to rehabilitate and transform San Juan Avenue to a complete street from Madison Avenue to Greenback Lane. San Juan Avenue is a major arterial with two travel lanes in each direction and a two-way left-turn lane. This southern segment end is on the city's shared border with the Sacramento County. The intersection of Madison Avenue & San Juan Avenue is located in both jurisdictions, but is maintained and operated by the Sacramento County as part of a shared-use agreement. This portion of San Juan Avenue serves a mixture of multi-family and single-family homes, with two elementary schools and San Juan Park within a quarter mile radius. There are also significant commercial uses along this corridor, providing retail along with a variety of small and large services and businesses.
Project Description
The San Juan Avenue Rehabilitation and Complete Streets Phase 1 is a SACOG State of Good Repair federally funded grant project. Phase 1 is broken into two segments:
Phase 1A: Design, environmental documentation, right-of-way acquisition and construction for San Juan Avenue from Madison Avenue to Chesline Drive.
Phase 1B: Design, environmental documentation and right-of-way acquisition for San Juan Avenue from Chesline Drive to Spicer Drive.
The project includes, but is not limited to:
Asphalt concrete overlay
Remove and replace deteriorated curb, gutter and sidewalk
Infill sidewalk on east side of San Juan Ave where none currently exists
Buffered class II bike lanes
ADA improvements
Streetlights at side street intersections and other key points
Traffic signal upgrades
Stormdrain infrastructure upgrades and expansion
Project Status
The City has contracted with consulting firm, Bennett Engineering Services, Inc. and is currently working on the design of the project.
Page last updated August 9, 2022.