Project Design
Last Content Update:
Plans
The design of the Arcade-Cripple Creek Trail Project is complete and the project is gearing up for construction!
The draft plans were available for download and viewing between December 6, 2021 through January 4, 2022. The City compiled all comments and questions received. The City's responses to those comments can be viewed here.
All comments are published anonymously, with no names or contact information.
Hard copies of the plans available for viewing at Citrus Heights City Hall, or at Orangevale Park District offices.
Design Elements:
During the community open house events, online surveys, and other feedback received, we heard common questions regarding several potential design items. Below please find the three most common items heard with detailed information on each:
Trees
Tree preservation is an important goal for the City and trail partners. Trail construction will result in some tree removal, trimming, and replanting of new trees. The overall goal of this project is to preserve as many trees as possible. The design team recognizes the importance of trees, as among other benefits, they will help to provide a shaded trail for all to enjoy.
At the onset of this project, the team identified a conservative worst case scenario of 302 tree removals. Through the design process, the team was able to reduce the tree removals to only 57 protected trees and 25 non-protected trees; a 73% reduction in the original tree removal quantity. Below are some of the methods used to develop this significant reduction:
Meander Trail: As illustrated below, the worst case scenario assumed a straight path with a wide area of tree impact. The design team spent considerable amounts of time looking at ways to meander the trail to greatly reduce tree impacts.

Design Elements: Design elements were identified to save additional trees such as using small retaining walls. These and other location specific design elements will be implemented, where feasible, as part of the project construction.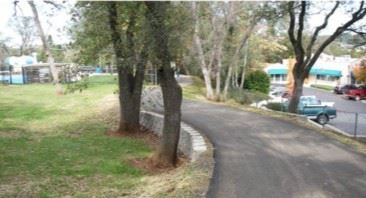 Tree Health: When meandering the trail will not eliminate all tree removal, the health of the trees were taken into consideration. When determining which direction to meander, preference was given to save healthier trees.
Arborist Review: A third party arborist was hired to review the plan set, and make additional recommendations on trail adjustments and tree impacts. A copy of the arborist's report is available for viewing.
Monitoring: While the team strived to reduce tree removals as much as possible, we also looked to minimize work within the drip line of trees to remain. However, work within the drip line may also impact trees and the team identified ways to minimize this as much as possible. The project will require all work within the drip line of existing trees to be conducted with hand tools only and be monitored by a certified arborist. In addition, these same trees will be monitored for a period of not less than one year after completion of construction to ensure long term longevity.
Mitigation: Although the design team spent a significant amount of time to identify the least impact to trees as possible, some tree removals are necessary. Tree removals will be mitigated with new tree plantings along the trail and within nearby parks. As the majority of the proposed trail is underneath SMUD's high transmission utility lines, any new replacements must meet SMUD's public safety requirements for planting heights. Locations outside SMUD's easement, and within adjacent parks such as Tempo Community Park, have also been identified as potential planting locations. The city is currently working with the Sacramento Tree Foundation to develop a final planting plan which will identify the species, number and location of replacement trees. The draft planting plan is available for viewing.
Lighting
During community engagement efforts associated with the project, the design team heard the desire for the entirety of the trail to be lit at night and the plans incorporate this trail lighting. In order to construct an environmentally friendly design and to reduce on-going utility costs, solar lights will be installed. At locations where tree canopy is more dense, hard-wired lights are proposed.
Bridges
Two new bridges are proposed as part of the trail construction: one in Sundance Natural Area across Arcade Creek; the other in Olivine Drive Open Space across Cripple Creek. The new bridges must meet local, state and federal requirements such as ADA and FEMA floodway requirements, including their elevation above the floodway.
The elevation of the new bridges were determined based on a hydraulic analysis of the floodway at each location. The height of the bridge deck in Sundance Natural Area will be located approximately 4-5 feet higher than the existing bridge (the current bridge does not meet ADA and or state, local, and federal floodway requirements). The new bridge will provide the following benefits:
Create passage for debris and wildlife
Create an ADA accessible creek crossing
Reduce flooding potential of adjacent properties
Provide more consistent and gradual slopes when compared to the existing trail, further increasing accessibility
Accommodate emergency vehicles, reducing response time to calls for service
Required slope protection in creekbank will protect and structure and creek from scour and erosion, helping with water quality by keeping soil in place
New bridge to be similar to the pictured (located in Rusch Park, Citrus Heights)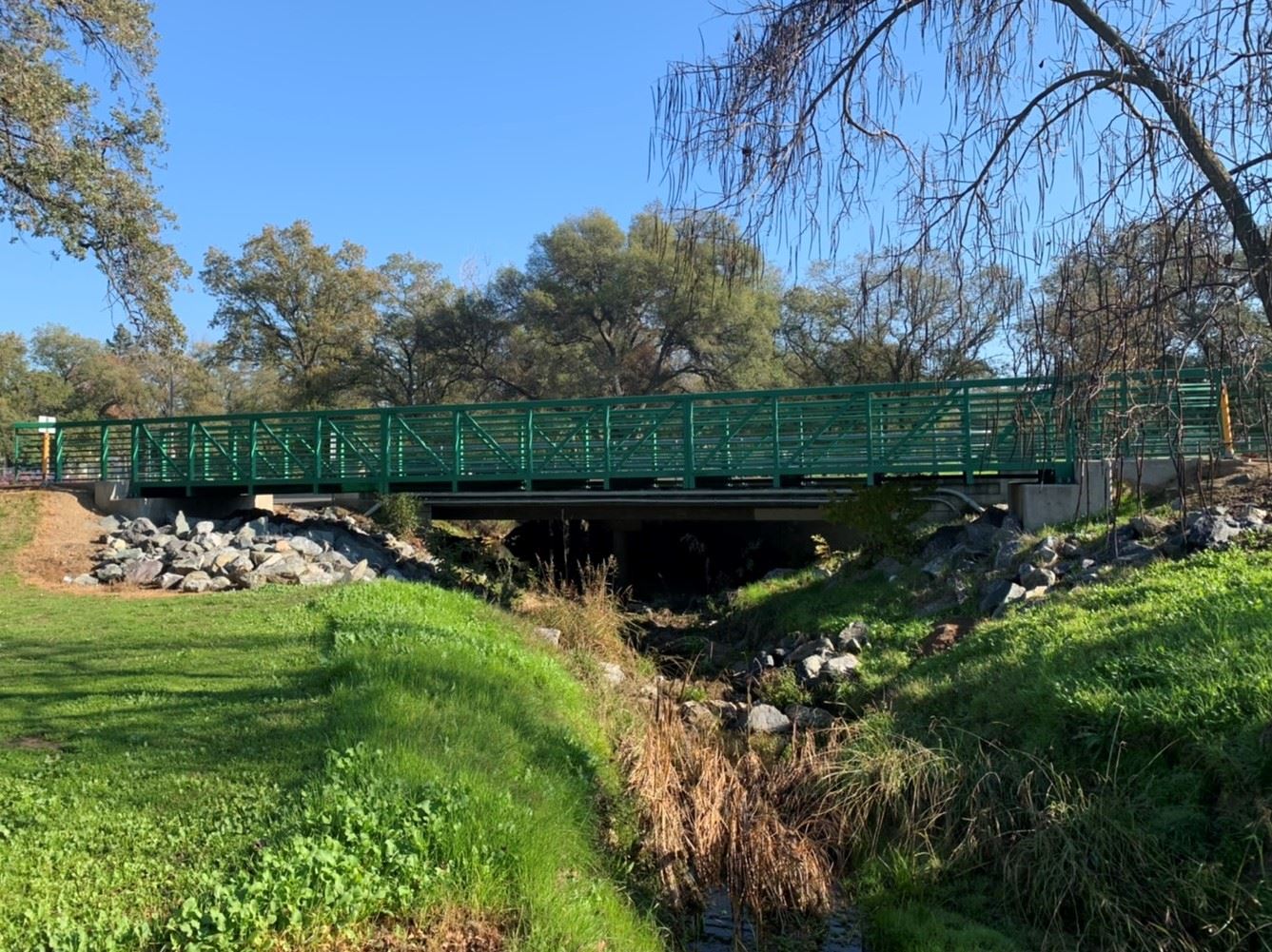 Next Steps:
Construction began in Fall 2022 with anticipated completion in 2023.
Opportunities for tree plantings with the Sacramento Tree Foundation will occur near the end of the project buildout. Most likely this will occur during the fall or spring months to support healthy tree establishment periods. More information will be posted as these events get closer.
Contact:
For questions about the project plans and schedule, please contact the General Services Department at 916-727-4770.