Complete Streets Projects
Complete Streets Projects
Complete Streets Philosophy
The City of Citrus Heights incorporates the complete streets philosophy into all construction projects. Mobility for all users of the transportation network - including not just autos but also transit users, bicyclists, and pedestrians of all ages and abilities - is an important issue for city residents. While the high volume of regional traffic passing through Citrus Heights benefits residents by increasing business activity, decisions for roadway improvements must give equal consideration to non-auto users of the roadways. To learn more about the city's complete streets philosophy, view the General Plan. For more information regarding regional connectivity, visit the Sacramento Area Council of Governments (SACOG) website.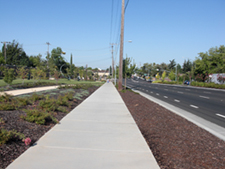 Complete Streets Projects in Citrus Heights
Antelope Road Improvement Project
Completed in 2010, the Antelope Road Improvement Project was the first project in the city to incorporate the complete streets philosophy. The project dramatically improved the aesthetics of the area along the north-west corridor of Antelope while also making it more functional for commuters and pedestrians. The project entailed widening Antelope Road from 4 lanes to 6 lanes, constructing wider sidewalks, installing new ADA compliant ramps and pedestrian crosswalks, and improving landscape and installation of medians. Since then, additional segments of Antelope Road have also received complete streets treatments, specifically sidewalks and street lights to improve pedestrian safety and encourage more walking and biking through the community. The area along the south side of Antelope between Lauppe Lane and Auburn Boulevard was completed in 2013, while area along the north side between Auburn and Interstate 80 are scheduled for improvements in 2015.
Auburn Boulevard Complete Streets Revitalization Project ( ABCS)
The ABCS Project is an effort to revitalize the aging and disjointed 1.75-mile stretch of Auburn Boulevard from Sylvan Corners to the northern city limits into a complete street. The project scope includes pedestrian safety improvements, bus pull-outs, ADA improvements, aesthetic improvements, and more.
Sunrise Boulevard Complete Streets Project
Construction of Sunrise Boulevard Complete Streets Project - Phase I (Oak Avenue to Antelope Road) wrapped up in early summer 2013. The project transformed Sunrise Boulevard into a complete street by providing aesthetic continuity; improved traffic, pedestrian, and bicycle mobility; and road rehabilitation. There are several phases of improvements planned for the Sunrise Boulevard corridor, including the Sunrise-Sungarden Signalization Improvement Project (PDF). This project is scheduled for construction beginning November 2014 and is expected to wrap up by spring 2015. This phase will re-grade the Sunrise-Sungarden intersection to eliminate the significant elevation difference between the north- and southbound lanes of Sunrise, install a new traffic signal with state-of-the-art control equipment, vibro-tactile pedestrian push-buttons, countdown pedestrian signal heads and curb access ramps (for ADA compliance) as well as bicycle detecting sensors. The work will also include reconstructing a section of raised sidewalk southwest of the intersection to improve safety and accessibility. New center medians and enhanced striping, pavement markings, and improved transit stops are also included in this phase. The next section of Sunrise Boulevard scheduled for improvements is the area between Antelope Road and the north City limits, focusing primarily along the west side. This phase will replace existing curb, gutter and sidewalk with new vertical curb and wider, ADA compliant sidewalk and will also construct infill curb, gutter and sidewalk where sections are missing ( along the west side only) along with fully accessible transit stops and shelters. The project will also resurface the existing roadway by constructing minor pavement repairs followed by an asphalt overlay applied to the full width of the boulevard. Re-striping of the roadway will maintain the existing 2 lanes in each direction with a center two-way left-turn lane (between existing landscaped median segments) and provide for wide bike lanes. The existing signalized intersection at Twin Oaks Avenue will be upgraded with new state-of-the-art control equipment, countdown pedestrian signal heads, new ADA curb ramps, decorative stamped crosswalks, bicycle detection and traffic cameras. This phase of work is expected to bid in December, and commence with construction by March 2015. Additional project plan detail will be made available in the coming months.
For additional information on these or other complete streets or safety projects in the City, please contact the General Services Department at 916-727-4770.