Pavement Maintenance Program
Pavement Maintenance Program
Citrus Heights maintains approximately 237 miles of streets. Although streets are built to last for 20 to 40 years, they begin to deteriorate from the moment they are constructed. Streets with a lot of traffic, particularly heavy truck traffic, deteriorate more rapidly than streets in residential neighborhoods. Despite a significant investment in pavement maintenance since incorporation, the city still has a large backlog of streets that require maintenance. This backlog requires more money than the city receives for road maintenance activities. Therefore, paving priorities are established to best utilize the city's limited funding. The actual number of streets resurfaced in any given year varies due to street length and budget constraints.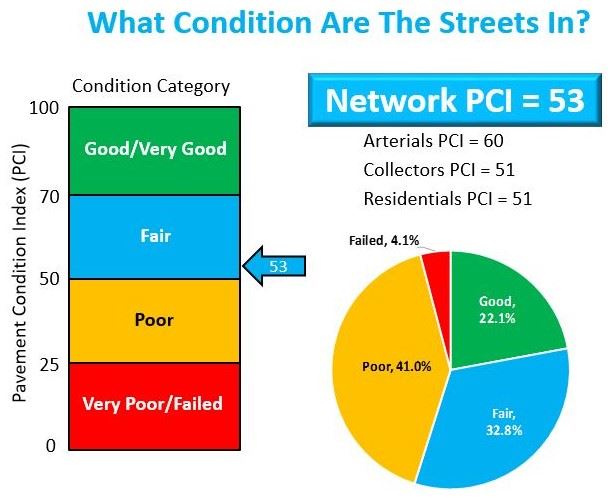 Recent Pavement Analysis
In 2020, a pavement analysis was completed utilizing a third party consultant who specializes in pavement management. The analysis provided an index of our city streets and their condition which is used to help make decisions on what repairs are needed and when. Click here to view the Pavement Condition Index (PCI) by street name.
The city maintains and repairs public streets only. Private and commercial streets are maintained by the property owners whose lots encompass the streets. Click here to view the complete list of city streets. Private streets are identified in green.
Where Does the Money Come From?
The city receives Gas Tax funds that are primarily used to fund regular maintenance activities (pothole patching, traffic signal maintenance, renewal of pavement striping, and replacement of worn signs). Through the enactment of Senate Bill 1 (SB1), also known as the Road Repair and Accountability Act of 2017, the city receives an additional allocation of transportation funds in which the City Council must approve a separate expenditure plan on an annual basis for use of those funds. The City also receives Measure A sales tax income that helps to pay for road resurfacing projects like slurry seals, cape seals, and asphalt overlays, as well as routine maintenance and matching dollars for capital projects.

For questions regarding this year's project, the overlay program, or transportation funding, please contact Regina Cave, General Services Department at 916-727-4770.