Flood Zones
If you are currently experiencing an emergency or life threatening situation, call 9-1-1.
Arcade Creek Flood Insurance Rate Map Update
Background
The Federal Emergency Management Agency (FEMA) is revising the Flood Insurance Rate Maps (FIRMs) and Flood Insurance Study (FIS) for Arcade Creek in Sacramento County. The revision will enlarge the floodplain and increase the 100-year flood elevations by up to more than 2 feet. A number of properties are being added to the floodplain for the first time and property owners may be required to obtain flood insurance by their mortgage companies. The 100-year flood elevations will also increase for properties already in the floodplain and these properties may see the cost of flood insurance go up. It is expected that the revised FIRM will become effective sometime in mid-2023.
FEMA provides an opportunity to appeal the changes to the floodplain map and 100-year flood elevations during a 90-day period starting on October 6, 2022. It should be noted that FEMA will only consider appeals based on scientific or technical data that would affect the flood maps and 100-year flood elevations, however FEMA will consider comments on other data such as typographical errors, incorrect street names, and other omissions. For information on the statutory 90-day appeal period, as well as copies of the FIRM panels please visit FEMA's website at www.fema.gov/plan/prevent/fhm/bfe or call the FEMA Mapping and Insurance Exchange toll free at 1-877-336-2627.
The City of Citrus Heights and Sacramento County will hold a public meeting to discuss the changes to the flood maps. Representatives from FEMA will attend to present an overview of flood insurance options and answer questions. Representative from the County will be available to provide information and discuss specific changes to the flood map at your property. To see if your property falls within the new proposed plain see FEMA Flood Map Service Center | Search By Address for existing maps.
FEMA Firm Maps Proposed maps. - see FAQ and Tutorial links below for instruction on how to view the old map and the proposed map overlay.
A PUBLIC MEETING was held Monday, November 14, 2022 at 6:00 PM at the Citrus Heights Community Center. Future meetings will be posted here.
Are You in a Flood Zone?
To determine if you are in a flood zone:
Look up the address online using the FEMA Flood Map Service Center tool for existing maps (2012 or earlier)
Contact the General Services Department by email or by calling 916-727-4770. Please be ready with the property address and your contact information.
Can I build in a Flood Zone?
Please see Municipal Cope Section 106.30.040 which defines limitations on development within a floodplain. City Drainage & Development Policy. Please call General Services at 916-727-4770 with any questions.
Flood Insurance
Based on a geographical information system (GIS) analysis, over 850 parcels with habitable structures in Citrus Heights are within a flood hazard zone. In August 2012, the Federal Emergency Management Agency (FEMA) adopted new Flood Insurance Rate Maps (FIRMS) to better reflect the flood hazard based on GIS data. The insurance industry heavily relies on the FIRMS published by FEMA to determine the need for a property owner to purchase flood insurance.
Letter of Map Amendments Project
All parcels that touch the flood hazard zone may be required by lenders to carry flood insurance. Through a GIS analysis, the city determined that in 80% of the parcels within a flood hazard zone, the habitable structure is actually located outside of the flood hazard zone. Therefore, the city is currently in the process of completing the FEMA Letter of Map Amendments (LOMAs) and Elevation Certificates for Habitable Structures within the Base Flood Elevation Project.
The goal of the project is to provide FEMA, property owners, and the city the necessary documentation to either remove the flood insurance requirement or lower the premium based on a preferred rate. The project could potentially save Citrus Heights property owners $1 million per year (based on an average saving of $1600 per year). The project is slated for completion in 2013. Upon completion, the final determinations will be mailed to property owners and tenants. In addition, they will be made available on this web page for the public to view and print.
Protect Yourself
Did you know it could take at least 30 days before flood insurance takes effect? Flooding is not covered by standard property insurance. If your property is located within a flood hazard area, we encourage you to buy flood insurance to protect yourself from flood losses. Contact your insurance agent for flood insurance information. Property owners can insure buildings and contents, and renters can insure their possessions. Remember, you do not have to live in a floodplain to qualify for flood insurance. According to FEMA, 30 percent of flood claims are outside of a FEMA-mapped 100-year flood area.
Prepare Ahead of Time
Even if you have not experienced flooding problems in the past, you may want to keep flood-fighting materials on hand, such as sandbags and plastic sheeting to protect your property and belongings. Often there are proactive steps taken before a flood that can help protect your property including knowing how to divert floodwater around your structures, and, in some cases, elevating your house above the flood hazard. Measures to protect a property from flood damage also include retrofitting, grading a yard, correcting local drainage problems and emergency measures such as moving furniture and sandbagging. For more information about preparing for an upcoming storm, visit the Be Storm Ready page.
Past Flooding
Sacramento's risk of flooding is the greatest of any major metropolitan area in the country. Historically, the Sacramento region has experienced flooding due to heavy rains and from the many rivers and creeks. The 3 rivers that run through the Sacramento Region include the Cosumnes, Sacramento, and American. Flooding can be due to failure of a flood control system, overwhelming rainfall, rapid snow melt, or localized thunderstorms. In the past 50 years, major flooding occurred in 1964, 1969, 1972, 1980, 1983, 1986, 1992, 1995, 1997, 1998, 2005, and 2012.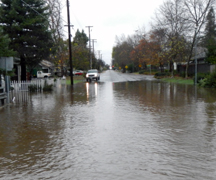 1995
In 1995, heavy rains hit the Sacramento region causing widespread localized flooding, in particular in the Arcade (with Cripple Creek tributary), Florin, Union House, and Dry Creeks. Two years later, a series of tropical storms hit northern California causing the Cosumnes River to break through its levees in 24 places. Heavy rains in early 2005 caused many local drainage concerns and filled the Sacramento River. Because of the risk of flooding in the Sacramento Region, it is important to take necessary steps to safeguard your family and property.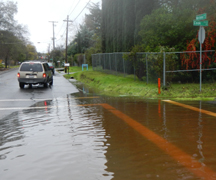 2012
In December 2012, 3 storms in less than 1 week dropped approximately 4.74 inches of rain on the Sacramento region. During the early morning hours of December 2, 2012, rain fell at a rate of more than 1 inch per hour causing creeks to overflow their banks, trees to topple, and localized flooding. With creeks already full from the previous 2 storms, the rapid surge of water overwhelmed the city's drainage system and resulted in serious flooding. The recent storms highlight the importance of preparing for a storm ahead of time, even if you are not in an area that regularly floods.