Transit Services
The City of Citrus Heights Gets You Moving!
The City of Citrus Heights offers residents, commuters, and visitors many great public transportation options. The Sacramento Regional Transit District (SacRT) operates convenient public routes that can take you to many areas inside and outside of the city. Check out the SacRT Schedules by clicking here!
Not Sure How To Plan Your Bus Trip?
4 EASY STEPS TO RIDING THE BUS
Find your bus stop and stand by the sign. Have exact change ready, or use the convenient Connect Card or ZipPass app. When the bus approaches, look for the route name and number on the top front of the bus. Wave to the bus operator to stop.
Board the bus and place exact change in the fare box (bills or coin), show your valid pass, or activated mobile pass or tap your Connect Card.
One block before your destination, pull the overhead cord once to ring the bell, which also turns on the "request stop" light.
Exit through the back doors.
Fares and Passes - Applies to all bus and light rail
Single & Daily Pass Fares
| If you are: | Your fare is | Single | Transfer Ticket | Daily Pass |
| --- | --- | --- | --- | --- |
| Age 19 - 61 | Basic | $2.50 | $0.25 | $7.00 |
| Senior (age 62+) | Discount | $1.25 | $0.25 | $3.50 |
| Person with Disabilities | Discount | $1.25 | $0.25 | $3.50 |
| Student (grades K - 12)* | Discount | $1.25 | $0.25 | $3.50 |
Many students, in grades TK through 12, are eligible for free transit passes. Check with your school district for details or visit www.RydeFreeRT.com.
Monthly Passes & Stickers
Discount (senior, disabled or student) monthly or semi-monthly stickers must be affixed to a valid SacRT photo ID, with the exception of the student stickers, which may be attached to a school issued photo ID.

Type
Price
Basic Monthly Pass
$100.00
Basic Semi-Monthly Pass
$50.00
Senior/Disabled Monthly Pass/Sticker
$50.00
Senior/Disabled Semi-Monthly Pass/Sticker
$25.00
Super Senior Monthly Pass/Sticker (age 75+)
$40.00
Student Monthly Pass/Sticker*
$20.00
Student Semi-Monthly Pass/Sticker*
$10.00

*Many students, in grades TK through 12, are eligible for free transit passes. Check with your school district for details or visit www.RydeFreeRT.com.
ALL FARES ARE SUBJECT TO CHANGE
SacRT Fares Accepted by Other Transit Agencies (Click Here for PDF)
Bus: Passengers are required to pay a basic or discount single fare for each trip or may purchase a daily pass valid for unlimited rides on that day.
Light Rail: Single-ride tickets are valid for 90 minutes from the time of validation on light rail only, or pay the 25-cent transfer fee when boarding a bus.
How to Ride SmaRT Ride:
Check out this step-by-step guide on how to use the SacRT SmaRT Ride app! Click the image below to open as a PDF.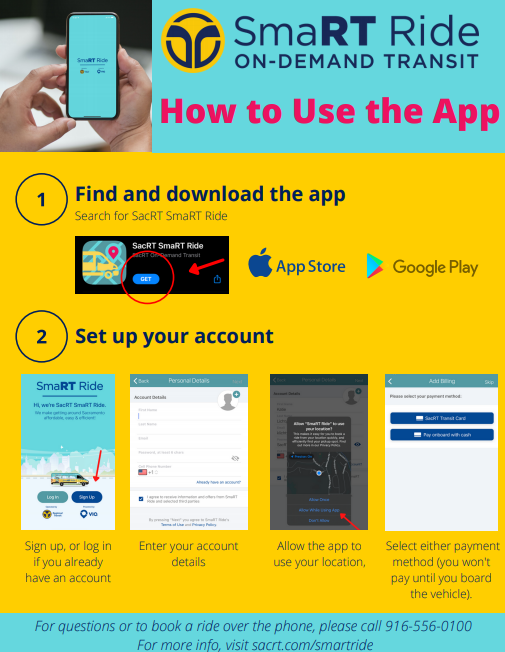 First, download the free SmaRT Ride App, which is available in Google Play and the App Store.
To request a ride:
enter a pick-up address and your destination address.
Note: SmaRT Ride shuttles cannot travel outside the service boundary. The pick-up and drop-off locations need to be inside the same service zone.
The SmaRT Ride app will provide an estimated pick-up time, track their bus in real-time, and send an alert when their ride is about to arrive.
SmaRT Ride customers can also request rides by calling 916-556-0100 or by going to ondemand.sacrt.com.
Trip requests must be made on the same day. Wait times for service are subject to vehicle availability and demand.
The drop off window is an estimate based on your desired travel time. Because this is a ride-sharing service, actual drop-off time may vary due to demand. Please understand that while we make every effort to arrive at your desired travel time, you may have a slight wait for the SmaRT Ride shuttle arrival due to demand. If you must arrive at your destination at a specified time, we recommend planning your trip to include a time cushion.
title VI
The City adopted its Title VI Program (PDF) on June 24, 2021.
For questions, please contact the City's Title VI Coordinator, Amy Van, at (916) 725-2448. TDD users with questions or comments, please call the California Relay Service TDD Access Number (800) 735-2922.


Page last updated August 31, 2022.